Open Day 2023
Hundreds of people streamed into the Supreme Court in Stirling Gardens just as the doors opened on Saturday, April 15 for Open Day 2023.
It was a behind the scenes look during Boorloo Heritage Festival. Watch the video to see how the day unfolded.
Visitors were invited to see areas of the heritage listed building, which this year celebrates its 120th anniversary, that are rarely open to the public.
Visitors learn about iconic cases and the history of judges' robes and wigs in Western Australia.
Supreme Court judges and registrars were on hand to talk to visitors about the building and the justice system.
Justice Michael Lundberg chats to visitors.
Chief Justice Peter Quinlan addresses visitors to his chambers.
Chief Justice Peter Quinlan said Open Day was a showcase of the Supreme Court building and of the justice system as a whole.
"You really get a sense of the history of the place when you come into the courtrooms in this building – where so much Western Australian history has been made," Chief Justice Quinlan said.
"It has been fantastic. We've had hundreds of people coming through the Court and so many wonderful conversations with members of the public enquiring about the work that we do and the role of the Courts in the State."
Mock jury selections were a popular feature of Open Day 2023. Members of the public formed a jury pool and waited for their number to be called.
Visitors learnt how a jury is chosen and how important it is for a juror to let the judge know immediately if they believe they cannot serve on the jury.
Justice Amanda Forrester explains jury duty.
Members of the public including a volunteer "accused" watch on.
A member of the jury pool provides a reason for not being able to serve.
Children were also able to see what it is like to be on a jury.
Registrars explained the administration of deceased estates and historic wills that were also on display.
Registrar Acacia Hosking talks to a visitor about a historic document.
Registrar Brendyn Nelson explains grants of Probate and Letters of Administration.
The registrars also talked to visitors about how mediation is used to resolve disputes before trial.
"It's a really significant part of the Court process in that only around two per cent of civil matters actually go to trial and the majority of matters settle either at or following a mediation," Registrar Acacia Hosking said.
Children took part in a fun Supreme Court Challenge quiz and were awarded an honorary admission certificate at the end of the tour.
In Court 1, they also enjoyed a special display of the Penry Photo-FIT exhibit. It was tendered during the so-called Perth Mint Swindle case appeal in 1987 and was a facial identification technique used by investigators.
Children complete the Supreme Court Challenge.
Children make a facial composite picture while learning about an exhibit tendered during the Mickelberg appeal.
A highlight of the tour included a visit to Court 2 where some of the State's most notorious criminals have been sentenced.
Visitors could hear historic audio from the 1963 trial of serial killer Eric Edgar Cooke and view photos tendered as evidence.
It was then down to the cells for the end of Open Day 2023.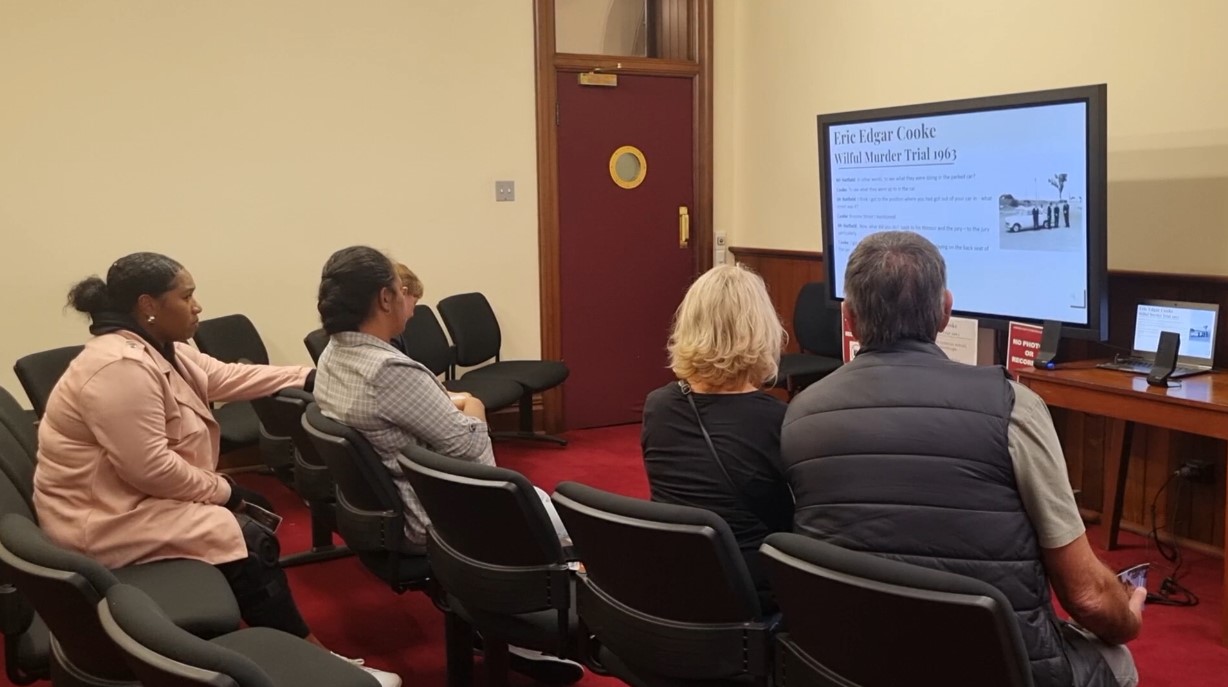 Visitors listen to audio from Eric Edgar Cooke's 1963 murder trial.
Tour End: Down to the Cells.
Last updated: 19-Apr-2023
[ back to top ]